Greenery and a sense of tranquillity invited us in, as we entered the grounds of Vishranthi, a home for seniors located on the outskirts of Bengaluru. The fresh smell of ripened mangoes merged with the cacophony of students and children learning in the background, as part of Vishranthi's orphanage and vocational training centre.
The 'Pizza Grannies,' as the founders of Vishranthi — Padma Srinivasan and Jayalakshmi Srinivasan — are popularly known, are warm and welcoming. As we sipped on mango juice (from their own garden), they began to tell us the story of Vishranthi.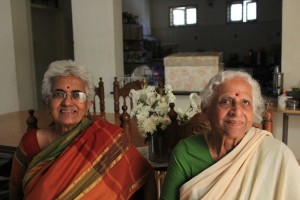 Padma and Jayalakshmi, the founders
The beginning
In 2003, after Padma Srinivasan retired as a cost accountant, she dreamed of starting a home for the elderly. Sharing the same dream was her dear friend Jayalakshmi, who also happens to be Padma's daughter's mother-in-law. But they didn't know where to start. How would they raise funds? At this point, Padma said to herself, "If you think you can, you can; if you think you cannot, you cannot." This is a motto that sums up her energy and drive in life.
Motivated by an advertisement to become a franchisee for Amul, Padma and Jayalakshmi decided to make pizzas to fund their dream home.
It involved using Amul mozzarella cheese to make the pizzas and get training in pizza making basics. "It came to us at the right time," smiles Padma as that formed the base for building Vishranthi. Pizza Haven, as they named it, had its first outlet in Richmond town in a garage. It was a hit among the school children in the area. Seeing the profit that thier garage venture was generating, Padma began to think of scaling it up.
With the help of her daughter, Sarasa Vasudevan, a senior travel industry professional herself at that time, they began to supply pizzas to multinationals in Bangalore earning them recognition and the sobriquet of Pizza Grannies.
As pizzas became a full-fledged business, Padma decided to mobilise these funds and sell her home in the prime area of Richmond Town to begin the construction of Vishranthi. She would change three buses and travel to the location to personally supervise the construction of Vishranthi.
Pic courtesy: Silver Talkies
The Vishranthi home for senior citizens became fully functional in 2010. The home, with its greenery and serenity, has welcomed many residents, some from other parts of the world too. They have a garden, where the toppings and ingredients for their pure vegetarian pizza business, still their mainstay, come from.
A lot of the energy also comes from Padma Srinivasan, a septuagenarian herself. Thrown to the wind at 27, after her husband's tragic death, she motivated herself to accept a job at her husband's company ITI and study more to reach higher levels at work. "Before ITI, I did not know how to open a bank account!" she tells us. Today, she has not only opened a bank account, but fulfilled her dream of opening a retirement home too.
Vishranthi: An open house
Located on Hoskote-Malur road, the doors of Vishranthi have always welcomed each and everyone who has walked in, offering a meal and lively conversation. The warmth is there for all to see. Currently, the home has 12 residents, all of them women, though it is open to every senior. Each senior has a spacious room to themselves, with attached bath. Nurses or attendants can be arranged at an extra cost. All the rooms face the beautiful garden at the centre. Residents are encouraged to mingle with each other and participate in Vishranthi's other activities.
Gardening is one of the activities, along with indoor games, conversations and pooja sessions. Residents need to pay Rs. 7000 per month for food and maintenance, apart from a refundable deposit. Vishranthi's greenery filled grounds also has a meditation hall, a library, a cow shed, a self sufficient garden and even a temple over looking a small pond. We are informed that regular poojas are held for those wishing to take part. The dining hall is a warm, vibrant area, inviting guests in and encouraging residents to read the paper, sing or just engage in lively conversation with each other.
There are also several charitable activities held at Vishranthi. The home has already started a centre for free vocational training and an adult literacy programme. Padma proudly adds, "We have began tailoring, basic computer and spoken English classes and soon the training will extend to candle and agarbathi making classes too!"
The training has already borne fruit, as some of the girls who studied here have began working in a nearby shopping mall. Plans are on to start an orphanage on the same grounds of the home with two dormitories for the children.These services are available free of cost.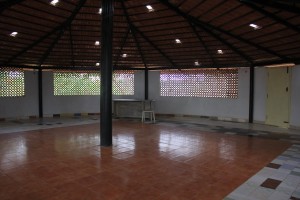 The meditation hall
Moral support
Jayalakshmi, the other half of the Pizza Grannies, is a 70-plus cheery faced lady who has been the moral support for Vishranthi. "My daughter-in-law Sarasa and dear friend Padma have fulfilled my dreams," she says. She also adds jovially that whenever people would ask how the girl's mother (Padma Srinivasan) and the boy's mother (Jayalakshmi Srinivasan) get along, they would laugh it off and say, it's all about the attitude. Today, the base and sauce for the pizza business is made on the Vishranthi premises and catered all over Bangalore. They are open to corporate enquiries and bulk party orders that help them sustain their home-away-from-home for senior citizens.
This post was originally published in Silver Talkies and is republished here with persmission from the publishers of the website.
Related Articles
Elders reach out to the young
A Bangalorean technologist innovates for the elderly
Safeguarding the elderly, is a community effort
Bangalore city and its elderly citizens